Well over a week ago, I had noticed that the outdoor arena was finally free of residual snow and with our above-average temperatures, the ground was pretty decent (ie. dry). It made me excited for the prospective riding season (I am so done with trotting in straight lines!), but it also made me doubly excited to take the horses out to gallop around and act like nutters.
As such, I opted to clear the whole day and take all the horses to the ring for a chance to gallop, buck, and play around for the first time since last year. Since the arena is in an open clearing, it is one of the first areas to melt and dry out - the horses still have some ice/snow in their paddock so the opportunity to act silly is quite limited while the remainder of the snow melts away. I knew that Annie needed a good gallop the most, as when I rode her days previous, I could just feel her muscles quivering with anticipation. Good mare is always sensible when I'm on her back, but she was itching to let 'er rip.
And when I turned her and Spud loose, she certainly did not disappoint.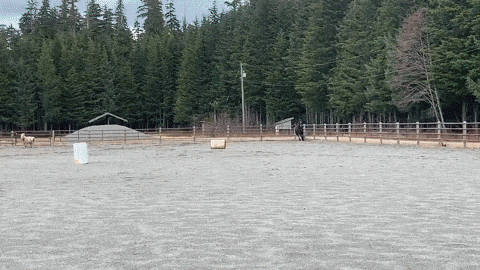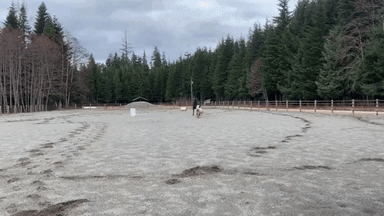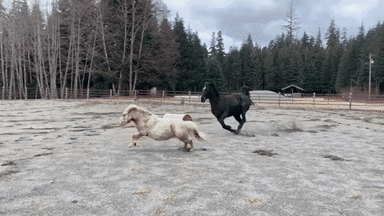 I did miss a majority of their play, as I had brought the dogs along for the walk and was busy getting out of the ring to stand along the side and out of the way with them. I did manage to get a bit of the show, though! I think Annie rolled five billion times - she was certainly very pleased with herself. Spud, as always, was content to tag along and kept up pretty good as they galloped back and forth.
Once Spud and Annie had had their fill (after a whole 10 minutes, aha) I let them chill and wander around before hand-walking them the long way home to cool out. After I had brought Annie and Spud back home, I met up with N and we took AJ and Maizey to the grounds.
Admittedly, I was a bit hesitant to see how Maizey looked, as I haven't really asked her to move out in months, mostly due to Winter/snow. We've done a handful of trot sets down the roads when they were clear of ice and snow, but I haven't seen her move on her own in a while.
I needn't be worried, though, because she looked pretty damn good: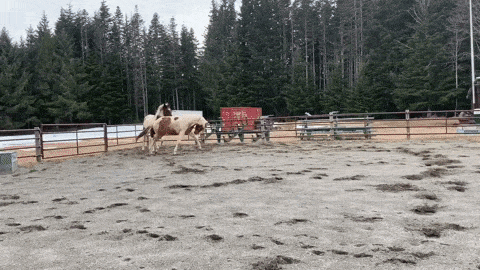 It was pretty funny because it took Maize a second or two to realize she could gallop and play - and once she figured it out, she shifted into fifth gear for a stretch or two. It made me smile seeing how good she looked and felt - I'm keeping my fingers and toes crossed for our vet appointment in early May that we get some good news about her ringbone and that the Vet approves her heading out to pasture for the Summer. I think she needs some time to just grow up, be a horse, and play in the Summer sun with knee-high blades of grass all around her.
All in all, a good day spent with the ponies.