After a few days of recovering from the subsequent #ladiescamphangover that followed such a busy weekend, Annie and I saddled up for a low-key hack around the subdivision. I chose to tote Spud along, since the potato had a short break from any real strenuous activity until the chiro could see him. Thankfully, he's back to normal and ready to rock and roll!
Don't they look excited?!
I played around with a lot of lateral movements - which is quite the feat, since I was dragging along a stubborn pony, haha. Despite this, we had some really good movements and Annie was happy to comply, even whilst wearing her bitless bridle. The object of the ride was a low, meandering ride to stretch out the muscles and ligaments, as well as start to tackle some of the tension and resistance I get when asking for shoulder in or haunches in.
Suffice to say, the ride went really well and despite some moments of tension, Mare started to understand what I was asking and we had some really great moments. I was pretty pleased and planned to do some schooling later that week since the weather looked promising.
I made a mental note that I would either need a buddy, or haul to the grounds, as the subdivision was starting to crawl with wild critters of various sizes and shapes. While I realize encountering wildlife is sometimes an unavoidable issue living in the Northwest, I also know well enough to not encourage any unplanned... meetings. Animals are hungry and a single horse on it's own may look mighty tasty in the right circumstances.
Spoiler alert, we also did something really fun on the weekend!
As it turned out, I ended up making a last minute trip to visit the SO for most of the weekend. It was well needed, as he's been away for work for far too long and a weekend of riding paled in comparison to spending time together. Especially considering the next few weekends are chock full of pony-plans.
Although... that particular weekend was too, haha. And it may or may not have seen me waking up at 6am on a Sunday to jet back to town, hitch up the horse trailer, and head out, haha.
I had mentioned it before on this blog - our area has been a bit lack-luster the last few years horse-wise. Many people have moved away from home, or those who did have horses, no longer own due to: retirement, old age, downsizing, increased traveling, etc.
But now, the status quo seems to be on the rise. Lots of young kiddos and first-time horse families are slowly making their way out of the wood-work, and as someone who used to be an active member in 4H and our local horse club (which was disbanded several years ago due to inactivity and low members), it pained me to see there was no real sense of comradere or acknowledgement of one another. Not because of personal vendettas or attitudes, but mostly because none of us were formally introduced to one another.
And what better way to get to know one another than planning an ice-breaker of sorts fun cowboy challenge day at the fairgrounds?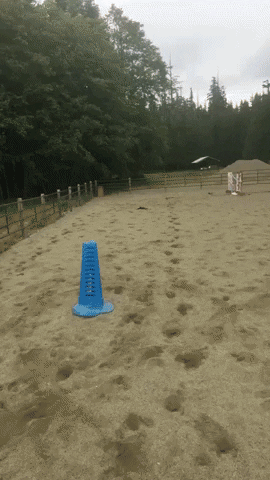 This was towards the end, but we had a
grand total of 13 horses show up!
So that's exactly what I did (with kinda maybe a personal agenda of my own? haha).
Not only would it be a good way to get people out and introduced to one another, but it would serve as a fabulous opportunity to recreate a busy horse show. In all the time I have owned Annie, the local riding arena has never been busy. We've ran into maybe two other horses there, but as far as Annie is concerned - the ring is our personal playground.
Which is fine, but sometimes things need to be shaken up a little bit. And when the first trailer pulled into the grounds, Annie whirled her head around like "WAT."
She was a bit spazzy at the trailer when she realized the horses that had joined us were ones she recognized, and she started swiveling back and forth and snorting. When I saw she wasn't going to kick out or otherwise, I simply walked away.
Mare is like "Ok, this is my life now."
As we got the various obstacles set up, I snuck a few glances at Annie who seemed relatively comfortable, but obviously annoyed I had tied Spud on the other side of the trailer. We had parked in a bit of an unfortunate spot, which meant Annie couldn't really see any of the other horses. Which... kinda too bad, so sad?
Anyways, I ended up being quite busy running the event, going over rules, snapping photos, and Annie ended up being stuck at the trailer for a lot longer than I had anticipated. Which was kind of fine by me because I was exhausted from a weekend of late nights and early morning driving. I had wandered over to the trailer once or twice and was pleased to see Annie eating her hay, nonchalantly watching the other horses work through the course.
A small girl who was there asked if she could take Spud through, and I said yes, so we headed to the trailer to grab him. If I am being completely honest, I was worried about removing him from the trailer. I don't think I have ever been in a circumstance where I have left Annie tied and I have worked him out of her eye-sight. After her naughty behavior at the Karen camp, I was determined to work her through the issue, and figured it was no time like the present to test some boundaries, especially since she was being pretty chill after her initial stupidity when other horses first arrived.
She saw us leave, and watched as we wandered far away into the ring, out of her eye-sight. And, I'll be damned if she didn't even make a peep.
The cutest thing you'll see all day. She was waving the
flag at him too, haha.
I relaxed and was able to guide the young girl through a variety of obstacles, even forgetting Annie was tied to the trailer. I snuck a peak a little later on and saw her quietly observing, a hind leg cocked.
As per usual, Spud was his most amazing gentleman self. He spooked at precisely nothing, and even humored the girl by trotting laps around the ring as she ran, haha. He certainly got his workout.
Can you spot Spud? Hahah.
At long last, most of the kids had had their fill with hand-walking over mattresses and through pool noodles, so I untied Annie and headed over. She was a bit excited to be led over, knowing she was going to join her friends, but a quick correction and she was behaving again. We did some groundwork in the arena and then set to work with the various obstacles.
She did really well with all of them and was giving me her undivided attention, which was nice. She surprised me by walking right through the tarp liverpool on the first try, and also surprised me by not liking the mattress, haha. It wasn't very firm and the horses had a bit of a tough time balancing whilst walking over it.
I returned her to the trailer by herself while some of the kids got saddled up and ready to ride the various obstacles. And to be honest? I totally forgot about Annie again, haha and didn't really pay attention to how she was doing until I walked back over to tack her up. She was happily munching her hay tho, watching the horses play around. Spud was still running around the fairgrounds with the little girl, which was both hilarious and adorable.
No hand-lead photos, so enjoy one of our
matchy matchyness, haha.
The riding portion went well - Annie fell asleep in the middle of the arena while I waited for a friend to successfully tackle the pool noodles on a very nervous horse. She did all of the questions, and even motored over the mattress without issue. Also, I totally forgot - but we totally tackled the trail gate! I don't know if readers remember
Annie's complete and utter distaste for the gate earlier this year
, but I was on CLOUD NINE we finally did it with ZERO issues.
I didn't ride her for long, since I felt like what we had gone there to accomplish was achieved (and part of me was ready to just lay in the arena dirt and sleep). I tied both horses back up at the trailer on opposite sides, untacked, and headed back into the arena to put the obstacles away.
Pool noodles, no problem.
Tacking the mattress, with Spud photo bombing.
Flag!
Frisbee disc retrieval.
This is the only photo I have of the water crossing without a rider going through it!
Super fun.
Many pats for a job well done.
At the end, a the remaining crowd and I went over the success of the event and it was proposed to continue the "meet ups" and alternate riding styles/ disciplines. The masses voted, and we will be doing a Gymkhana-style games day within the next few weeks (most likely early July). And the proposition is a Dressage/Jump day to follow, with the possibility of planning some group trail rides. I do hope the younger, less-experienced crowd continues to attend, as the lack of instruction in our area can be quite detrimental over the long-term.
Overall, a super successful outing and it also really filled my heart to see the fairgrounds bustling with activity again. It hasn't been that busy in years, and I hope to eventually broaden the invitation to join in on the fun to the surrounding horsey communities who have welcomed me with open arms for years.