Post-ride.
Spud was very upset he had to tread through belly-deep water.
I was able to take advantage of the Easter long weekend and play pony for a majority of it. And thank goodness, because we had an influx of nasty, rainy weather which made riding impossible until late Thursday afternoon.
While we have played around on some shorter trails (namely the one surrounding the fairgrounds arena... it actually used to be a XC course way back in the day), as well as hacking on the open roadway, I don't really lump all into the same category. So for the sake of my own, weird thought process, we had our very "first" long-distance, water-crossing, hill climbing trail ride this past weekend.
Initially, I had thought that we were a bit behind the curve of trail riding, but my Facebook memories recently reminded me that
It was the perfect day for a low-key ride, as the sun had finally poked it's head out (although just slightly before disappearing behind a thick veil of clouds). The horses were happy to be pulled from the paddocks and I chose to throw Annie's bitless bridle on, hoping there would be no theatrics inspired from the unplanned time off.
Ready to rock and roll!
We headed out and logged a really nice 7.5k ride which looped across the highway. The footing was great in most places, aside from one section where there was some hoof-sucking mud which Annie found offensive and flat out refused to budge another step. It took some cajoling, but eventually she relented and puttered along.
The trail featured several water crossings, rocky inclines, and a few sections where we were able to long-trot. Annie was sure-footed over most of it (aside from the previously mentioned hoof-sucking mud), and was happy to plug along and pick her way along the trail. I was mostly along for the ride, only interfering during some of the slipperier parts. Annie was happy to oblige tho, and she was given many good pony pats.
It should be said tho, that I was a bit nervous initially, because we had to pass a rifle range there were people actively shooting at, but neither of the horses seemed to care. I think it spooked me more than it spooked the horses, haha!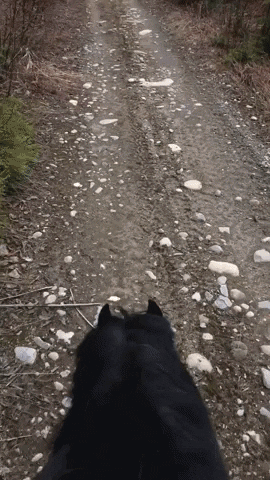 The ride was quiet, and during the trot sets, Annie felt nice in the bitless bridle. She certainly seems to like the side pull action vs the chin pull, so I think I'm going to keep the current set up the way it is. As she continues to get more comfortable with the bitless bridle, I was thinking of playing around with the criss-cross attachment at some point again, but for now we're both happy with the way it is.
All in all, a nice ride and a day well spent! And hopefully our next trail ride will feature some company.