At long last, the outdoor arena is free of snow and ice - which means some schooling will be in our future! It takes a week or two for the arena to fully dry out a bit after the winter ice melts away, so we'll probably steer clear of any real work for a bit longer. Part of me is like "oh, bummer", but the other part is excited that the trails are opening up and we can hit the wilderness!
Last year, I didn't do as much trail riding as I had wanted to, mostly because I was too focused on ring riding. This year, I have a different approach and a different mindset. I'm not opposed to ring riding, but a large part of me wants Annie to experience trail riding, hacking, and "new" questions. It can be easy to keep yourself shut in an arena, especially with a young horse, but it's important to me that Annie learns to navigate tricky terrain both in company and solo.
An Annie-less walk in the rain with the puppers.
Ella is afraid of Annie, but seems much more willing
with Spud, so we'll start small for now.
Also doubles as good "learning to be alone" time for
Annie now that Suzie is gone
She has never shown any kind of opposition to trail riding - she is actually the opposite. She's always game for a ride and is happy to look around and examine her surroundings. She isn't always the most sure-footed thing, or the most patient thing, but she genuinely seems to like wandering out on a loose rein down an old ATV path. I can't say I blame her - there is something calming and alluring about the great outdoors.
We'll still do schooling, shows, and clinics - just more emphasis on "fun" vs work, haha. Last year I kind of tried to DO EVERYTHING and although we did lots of things, we didn't exactly do the things we needed to do (like lessons, hah).
Following our weekend long clinic at the TBC grounds, I went back and revisited some ground work with Annie as well as firmly instilling my new mantra "I don't care if you have feelings, you need to just deal." Which included taking
only
Spud for walks and leaving Annie in her misery (she actually didn't do much... mostly walked the fenceline and let out a hearty neigh when we finally came back, haha) It also included tying; partly because of Annie's rendition of two stepping at the trailer on Day 1 of the Anthony clinic and partly because I still was walking with a limp (not from the kick, from riding my pants off all weekend!) well into the week, haha. She ties quite well, but it's the wiggling and haunches whirling around and pawing that has GOT TO GO. So, I basically just tied her up and went to work cleaning up the paddocks (winter manure removal, yay).
I can spy on her through the door to the lean-to at the
back of the barn. She had... opinions this day.
Which was fine, because I had 2 more hours of poop to
shovel so... work your shit out girl.
She's done quite well with the tying - our first session she pawed almost half of it and it has dwindled down to moving her haunches back and forth (I don't have cross-ties). It's been a good lesson in patience, because on one particular day I had to walk by her in the aisleway several times and each time I passed her, she jerked her head around as if to say, "He
llo
. I am
also
here. Please pay attention to me. I fling my head. FLINGING THE HEAD. LOOK LOOK. haha you're looking... wait where are you
going
?!?!"
It's getting better, but just baby steps. She tied quite well last year, so she may just need a tune up of things to get her patience reinstalled. It is Spring and all that. We also did lots of in-hand work and lunging in the one small open space of grass available in front of the barn. Some ground tying for good measure, hoof picking, pretend farrier work... She tried to jerk her hoof away once, got a stern "no" and went back to it like nothing had happened. She stood quietly and even tho I could tell she was annoyed with me hammering away at her shoes, she stood.
Much better, Bannie.
Note: she does not get left unattended when she's tied to the
tree. I keep her in my sights 24/7 in this instance.
Finally though, this Sunday I was able to climb aboard and go for a ride. I was keen on ponying Spud, but was unsure since Annie likes to fast walk/yank the reins from my hands when I ask her to stop for the first 5 minutes or so of the ride. It isn't pleasant to try and pony when she does that, so I decided to tie Spud up at the barn and mounted up.
Annie had been standing at the barn while I cleaned the tack room for about an hour and although she stood quite well, she stared hard at the driveway and I think she knew we were going out. After I tacked up, she did her big inhale of air (getting herself nice and physced up for the ride I assume) and tried to walk off in a big hurry the second I mounted. We did our circling exercise and I was pretty pleased to find it didn't take long for her to get her shit together. We wandered back to the barn to grab Spud, who had tangled a front leg in the hose (don't worry, the hose was literally only 8ft long) and as I maneuvered him and Annie back in the barn, his leg stepped over the hose before it fell on the ground. Thanks so much, hose.
Annie was just elated to know we were heading back out, so I had to kind of change up what I normally do when she gets fast and bracey. Instead of circling her, I just pulled her head off to the side until she halted and waited until she was calm before asking her to move off. We did this once in the driveway and once in the street.
Heading home!
She was good tho, and we even managed to cross the highway and venture off on an old logging road. She had never been there before, and had only crossed the highway once (with help of Nicole and AJ!) last year, so I was super happy she didn't hesitate. She was a little impatient when I asked her to halt until the road was clear, but otherwise was happy to oblige.
She tore through the ground with big marching steps. I asked her to slow a few times because poor Spud had to keep trotting to catch up, haha. We went through puddles and over a few fallen branches and she was great. Previously when I had done small hacks down other short trails with ponying Spud, Annie was on high alert and very cautious. This time? She was happy to bumble her way through and take a look at everything around her.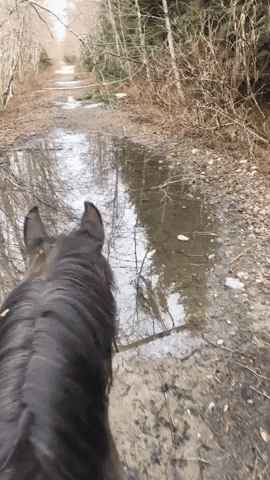 Barely any hesitation into the water andddd....
look at where I steered us lol. Right into a branch.
On the way home she did spook pretty good at another horse that came up the street - I hadn't seen it because we met right at the corner. It took some convincing to get Annie going because "Is dis our new friend?" and once I got Annie going, Spud ripped out my arm because "DIS IS OUR NEW FRIEND" which caused Annie to stop... and then Spud would go... But then Annie would go and Spud would stop. OH MY GOD YOU GUYS.
We finished the ride just over an hour and I was pretty pleased with her. She has certainly grown up since the last time I trail rode her and I am looking forward to doing more of it, especially with friends.
I did find it hilarious tho, that she chose to spook at the following things:
Clicking power line by the mailbox
A traffic sign
Piece of snow we have ridden by a handful of times
Another horse (and then she was CERTAIN we needed to follow them on their ride).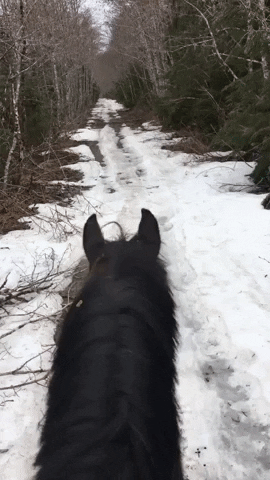 Her very uhm... active walk lol.
#gotplacestogo #peopletosee
Things she did not spook at?
Painted lines on the road (you would never guess how many horses this wigs out!)
A guy driving a ride on lawnmower down the middle of the road.
Cars splashing through puddles.
A branch smacking me in the face and scraping across my helmet.
A bird taking flight after we accidentally flushed it out of a bush near the trail.
The sound of gunshots from the gun range.
All in all, a good day out, especially since it had been a good long week since the last time I had taken her out!
I am trying very hard to focus on the positive things and not dwell on the imperfections - because a lot of time that's what it is with her. It's not that the entire lesson/ entire outing/ entire ride was bad - it's just portions of it. Training negativity from my brain is hard, and I'd like to give Annie the fair chance without leaving negative emotions to eat away at our relationship. She's been a fun horse so far, and if I want to improve these things, I need to keep going forward and doing what I'm doing without worrying I'll ruin the horse. Of course, I'm sure another month down the road I'll be worried I am ruining her, but that's the nature of the beast I guess.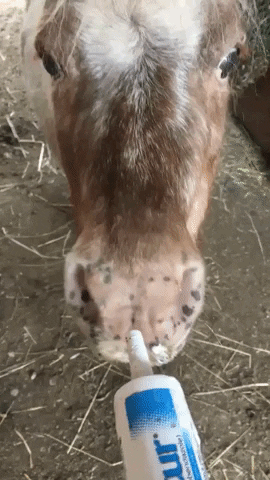 Another thing on our list to battle Annie's weight woes
was a Panacur Powerpack. Spud.. wishes it were for him.
Slowly, one step at a time we'll get there. Progress with horses is such a funny thing because one person's trail ride around the block may mean your horse didn't gallop back to the barn while for another it's frustrating your horse wouldn't just lower his head instead of staring at everything. It's all different, and it all gets measured differently.