First order of business: A huge congratulations to
L over at Viva Carlos
for reaching 1, 500 posts! What an accomplishment. I haven't been blogging for very long and only have a measly 326 posts, but I've always loved seeing the fabulous quotes, photos, and clinic recaps L has put forth! Cheers to you and your baby Dinosaur!
--------------------------------------------------------------------
When you're caught horse shopping when you
shouldn't be.
I'm sure many horse-people can attest to the fact that we are always window shopping. In truth, I've looked through the classifieds during down time at work, or a quiet rainy evening at home, but never really bitten the bullet past "tagging" a friend in the ad to "oooh" and "ahhh" over the pretty pony. But since Suzie's diagnosis and the inevitable end to her riding career, I've found myself looking much, much deeper and actually... *gasp* sending the seller questions and request for videos.
I've come across several nice horses, some of which I've pursued further (three). I've already decided what I want in a future horse and I feel as though my "checklist" is pretty fair and quite a few horses could easily fall into the category.
So many ponies.
And I'm sure you all are curious as to what I'm casually browsing for. As of right now, I technically shouldn't be "looking" or even wasting any energy in horse shopping since I had already decided I would look next Spring.
But forget the mind-game I am currently playing in my head and let's look at the checklist of needs/wants: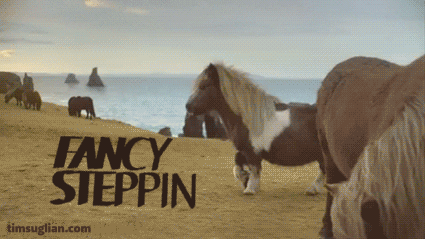 Fanciness?
Checkkkk.
Breed?

Quarter Horse is my first preference with Appendix being a close second. However, if a TB, Standie, or Appy fits the requirements, I can't necessarily ignore that!
Registration is preferred but not necessary.


Gender?

I have no preference to gender. I actually rode geldings almost exclusively for my entire riding career save for Suzie and one other mare.


Age?

5-9 years of age. However, if the "right" horse is a bit younger or older, I may pursue it.


Color?

Not hugely important to me but my first preferences would be chestnut, dun/palomino/buckskin, gray, black, bay (in that order). Not overly attracted to paint horses unless they are white/palomino. But like they say - a good horse is never a bad color! Temperment?
Approved!
Training?

I have a lot of requirements in this section and if it is too much word vomit for you, just know I want something that can be the "Jack of all trades, Master of none" with high emphasis on an English riding career.
Something that has been broke - I don't mind green horses but would prefer a "easy going" green horse rather than one that needs miles and miles of work. Something unflappable, brave, and safe are my main priorities.
Affinity for the English ring - movement-wise and have the athleticism to compete in say, a 2nd Level test or jump 3' with no issues.
Ability to be interchangeable - think gymkhanas, reining, etc. (This is why I am not looking for a Warmblood).


Other?

Besides everything I have written, safe and SOUND are my main priorities.
The option to do a 2 week trial, or lease before owning is HUGELY important to me.
Ability to pass a vet check.


Budget?

This is going to throw everyone off, but horses in my neck of the woods are not priced comparable to other areas. However, I am giving myself room to look for that "perfect" horse and have thus set a budget of $3500. Should that "perfect horse" be $4000, I wouldn't mind footing the extra, but it would have to be the right horse.
Realistically, it is a tall order, but I am going to be exponentially picky just because I can. I know that horse is out there, and I may have to bend a little in certain areas, but not by much. It may seem really picky and I'm sure a lot of people are going to say "Pffft, good luck" before they turn on their heel and strut away. But there is something to remember - I am not a horse flipper and when I purchase a horse I intend for that animal to be a permanent resident in my life. So when looking for a partner, much like a spouse, you have to be sure it feels right. And that is certainly something I am not willing to bend on.