Unrelated, but Forget-Me-Nots are beautiful.
In the Equestrian world, I realize we open ourselves up to a lot of debate and criticism; as with any sport out there. The type of saddle you ride in, clear as day, denotes what kind of rider you are and what your abilities are long before other competitors see you ride. It even comes down to the kind of halter your horse wears; which gives other horse savvy people the ability to detect what kind of mind your horse has (leather = good pony, rope halter = bad pony), or what their temperament is like. God forbid you show up to a clique-y Dressage clinic and don't have a $200 helmet, or on the flip side, show up to a barrel race wearing a helmet!
Of course, the instances I pointed out are more or less tongue in cheek. I am well aware that a saddle doesn't actually depict how you ride, but I do find that the assumption is there. What you wear, who you train with, and what brand of girth your horse wears all gives an air of presumption. It is unfortunate that instead of being supportive and helping us through a rough schooling, people continuously "rain" on every parade just for the chance to be right or to be better.
I've already received a massive amount of opinions and unwanted advice on the topic of Spud and his driving training. The few photos I took of myself driving him have turned into something less special than they should be. I understand there is room for improvement and not everything in the photos was done "by the book".
Some of the suggestions were just blank statements; just a piece of knowledge that didn't help me rectify the situation. If you point something out that is wrong, at least have the decency to help fix it (ie. His cart is too big for him. Ok, great. What do you suggest I do?). Telling me that something isn't right and then leaving me to my own devices isn't helpful; if you really are in it for the best interest of me and my horse, I'm certain there would be some elaborating being done. I take help I can get; I am certainly not a know-it-all, and being that I am new to driving; I don't understand a lot of things yet. However, the suggestions I've been receiving are more or less thrown out there as "if you don't agree/follow my opinion, you suck at horses."
Gee, thanks.
Let's just drive away from the negativity.
So what does the unwarranted help mean? Not really anything, to be honest. They don't think he should be driven in an open bridle? Ok, great, I'm glad you are concerned. You think that it looks unsafe? Alright, cool, but could you be more specific so I can clear it with the Trainer? He requires_________ to be driving? Awesome – I'm glad you care about his training, could you tell me why and perhaps give me some info?
I don't know all the questions to ask the driving Trainer. I don't know what "steps" he should be following in the training scale of driving and I certainly don't know enough terminology to even pretend that I am following along. But if you have a concern, please, speak up but be kind about it and elaborate on your point. And remember that when it comes down to the bottom line, Spud is NOT your horse, so don't be offended if I choose not to take your advice (especially if you are not a driver/driving trainer). If your issue is something as stupid as his weight, I'm glad you are concerned, but I am taking care of it at the moment. I am well aware that his hooves need doing [they were done yesterday, FYI] and his neck is very cresty – these are things I am not blind to and I am in the middle of fixing. Unfortunately, weight and hooves take time to correct and it won't show overnight.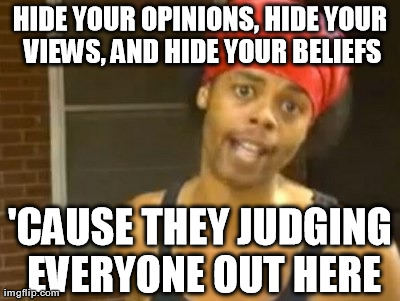 There have been good, even helpful, opinions from friends who were legitimately concerned or genuinely curious about Spud's training, and have been nothing but supportive and over-joyed for me. The poor Trainer has also had her fair share of spastic text messages from me, asking question after question to clarify my mini's training. I don't know why I even doubted her for a second, but negativity has a way of wafting through the air and polluting our minds. I need to remember to brush it off, and bring it up to the Trainer in more of a "I'm curious to know _____" instead of "WHY ARE YOU DOING THIS OMG OMG OM@?!?"
Criticism is everywhere, and everyone does things differently. We all need to realize that at the end of the day, what so-and-so does with her horse isn't any of our business, and so long as the horse is healthy and being looked after, who are we to judge? We can ask the questions, so long as we are respectful, but it isn't up to us to tell someone how they should be doing things.
/rant.